Comprehensive occupational health management software
ENTERPRISE HEALTH IS EVERYTHING YOU NEED TO MANAGE EMPLOYEE HEALTH —
ALL ROLLED UP INTO ONE COMPLETE OCCUPATIONAL HEALTH SOFTWARE SOLUTION. IT'S THE ONLY HEALTHCARE IT SOLUTION THAT COMBINES OCCUPATIONAL HEALTH AND COMPLIANCE, EMPLOYEE ENGAGEMENT AND A CERTIFIED EHR ON A SINGLE, INTEROPERABLE CLOUD-BASED PLATFORM TO ENABLE YOU TO IMPROVE HEALTH, WELLNESS, PRODUCTIVITY AND EFFICIENCY THROUGHOUT YOUR ORGANIZATION.
Medical surveillance

Track and manage employee health and safety — as well as compliance.

Worksite injury and illness

Document care for employees who are injured or fall ill while on the job.

Primary care

Make it easy for employees to access the care they need — without taking time away from work.

Employee engagement

Give your workforce the tools they need to stay healthy — and easily connect with clinical staff.

Certified EHR

Go above and beyond traditionaloccupational health IT solutions.

Robust reporting

Automate activity, compliance and other reports.

Standard features

Our robust arsenal of standard functionality equips your organization to meet employee health needs.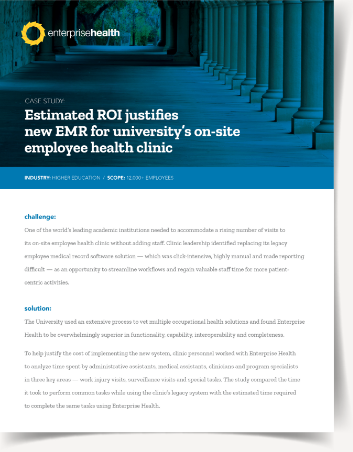 Making the occupational health IT switch
See the criteria one of the world's leading academic institutions used to make the forward-thinking switch from a legacy application — building the business case, evaluating options — and making the choice to switch to the Enterprise Health occupational health system.
Corporate occupational health solutions
From the factory floor to the exam room to the corner office, Enterprise Health generates significant value for employees, clinicians, compliance personnel, administrative staff, supervisors and executives — contributing to improved health, wellness, productivity and efficiency.
Go live in a matter of months
The Enterprise Health "out-of-the-box" occupational health solution can meet most employee health needs with minimal configuration. Our established playbook for planning, configuration, testing, deployment and training — plus our interoperability expertise — means the time from kick-off to clinic use can be measured in months.
SaaS or self-hosted
Our web-based architecture can be deployed in our data center, your data center, or with a cloud-hosting service.
Architecture options to support client preferences and risk tolerance levels
GDPR compliant, including encryption of data at rest
Rapid deployment and streamlined upgrades
No unnecessary hardware, infrastructure or IT support costs
Robust reporting that ties employee health to business health
Our customizable dashboards make it easy for you to see the critical measures you need to make decisions. Plus easily generate reports to meet crucial compliance requirements and analyze essential performance data.
A quantum leap for the industry

"Encryption at rest is something we were lacking in our security audit. We've been searching for someone to step up and provide that in the industry. No one else can do it except Enterprise Health. This is a quantum leap in security for the industry."

Project lead, petroleum industry

Flu programs simplified

"Enterprise Health met exactly what we needed. We are now able to document all flu vaccinations within employee health records and then pull reports based on compliance out of those records. It allows us to own the entire process and make sure that everything is done appropriately."

Samantha Lodish, Administrative Manager, Wake Forest Baptist Health

Even ready for a pandemic

"I'd like to thank the Enterprise Health team for helping us quickly put together our testing program with different encounters, the ability to upload images and develop reports. Without their support, we'd probably still be talking about testing and not actually doing it."

Director for Medical Compliance and Policy, petroleum industry
The pandemic pivot: How healthcare technology has changed in response to COVID
Happy Holidays from Enterprise Health
[Press Release] Enterprise Health quickly delivers COVID-19 immunization functionality